OGAWA Tinkle Touch Music Neck Massager*
OGAWA Tinkle Touch Music Neck Massager*
Warranty: 6 Months
Shipping:
Free Shipping (West Malaysia)
Logistic team will call for an appointment before delivery between 2-14 business days within Klang Valley while 2-20 business days for outstation.
OGAWA Tinkle Touch Music Neck Massager*
Tinkle Touch Music Massage Pillow is ergonomically designed to fit your neck and shoulders that gives you an instant personal relaxation experience. Pamper yourself with a soothing massage while enjoying your favorite music from your MP3 player or Smartphone thru the built-in speakers. Comfort and fun sometimes do come together!
Special Features
Ergonomic Design – Designed in u-shaped to help you position your massage right to the stress point.Stereo Cable & Speakers – Built-in speakers to play music from your MP3 player or Smartphone.Lightweight & Portable – Extremely lightweight and perfect travel companion.Comfortable Material – Made of soft and fluffy fabric that's pleasant to the touch.
Suitable for
At home, office and even travelling
*Note: Greeting card message services are not provided.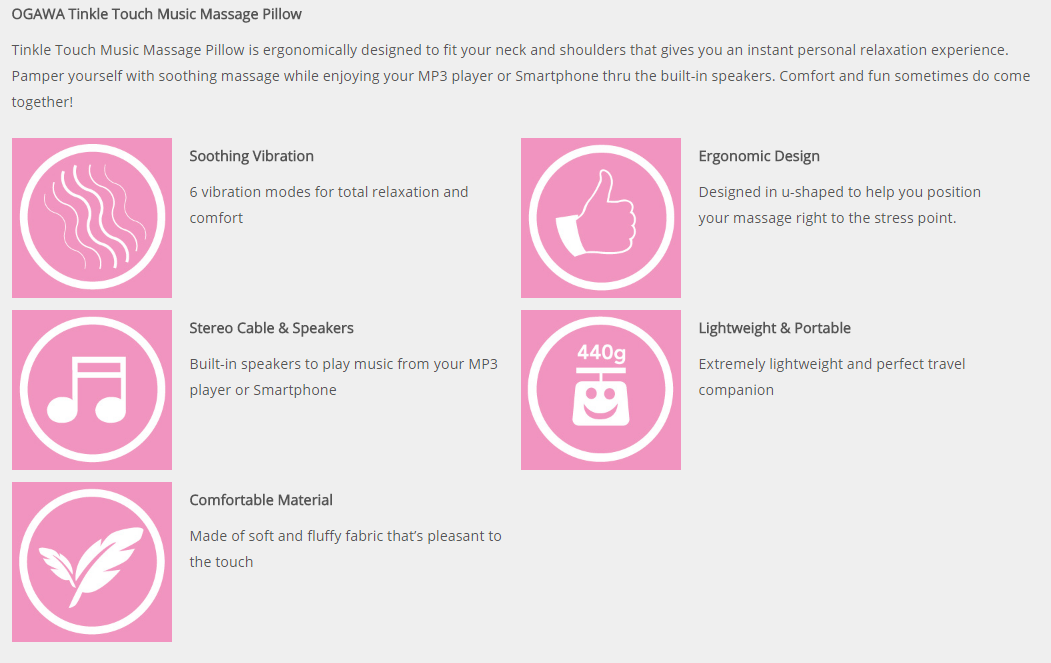 Product
Shipping
Free Shipping (West Malaysia)
Warranty
6 Months